BNI Carson City Chapter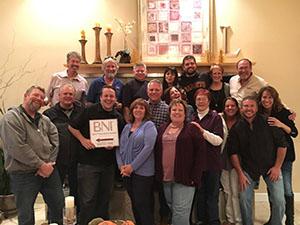 The BNI Carson City Chapter won their second Founders Award in the last three years. As you can see, they are a family and happy bunch as they enjoy the win at a chapter mixer. It is consistency that leads to excellence - in attendance, in growth, in passing referrals, in having individual and chapter goals, in supporting each other, in having one-to-one's and of course, having fun along the way. Congratulations Carson City BNI'ers!! The bar gets higher each year.
Suraj Zutshi
Director Consultant
---
NOON NETWORKERS
This chapter has won the third consecutive Founders Award in 2017. Consistently doing well in all facets is the reason for their continued success: New members, referrals, effective 1-2-1's, TYFCB, Visitors, community outreach and having fun. All this happens when all the chapter members are engaged and believe "why accept mediocrity when excellence is an option".
Suraj Zutshi
Director Consultant
---
Who is on top now after the BNI Blitz?
The CARSON CITY chapter, one of the oldest in the region, has been atop the regional traffic reports for the last several weeks (currently tied for #1). Best retention, best number of referrals, most visitors - what else can they do? Well, enter the BNI Membership Blitz and win it! Only the top five out of several hundred chapters were eligible. If you all remember, this started on November 7th and ended January 27th. In addition to gaining 3-5 new members (net gain), each chapter had to submit at least one member testimonial (preferably two) via video about why you are a Member of the BNI family. They did that on time and, obviously, very successfully. It was a fun opportunity to end the year dip with a new growth initiative. WELL DONE!! The entire chapter was engaged in this success and that is the secret ingredient we always looking for.
The Carson City Chapter wins a "Chapter Branding Makeover" complete with a Chapter Branding Kit plus an iPad Pro to make entering of all information into BNI Connect a snap! Congratulations to President John Terveer, his Leadership Team and all the chapter members.
---
BNI Carson City Recognizes Members' Long Service
The BNI Chapter City chapter had four members receive their 5-year ribbon and pin at their meeting this morning.
L to R: Fran Hunter, Jay Dargert, Mike Blasquez and Schad Brown.
---
2022 Founders Award Winner
The Leadership Team for the Battle Born BNI Chapter is thrilled to receive the 2022 BNI Founders Award on April 2, 2023. The Founders Award is awarded to chapters that represent the top 10% of the entire organization in terms of attitude, performance, and commitment. The chapters that receive this prestigious award are recognized both in SuccessNet and on the BNI website Attitude and Commitment – the hallmark of success and growth in a chapter.
---
Reno Rebirth Profile: Greg Haupert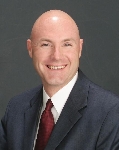 WHY WE'RE PROFILING HIM Greg Haupert, 48, grew up in Minneapolis, Minn. He began his career as a banker, serving on the retail side of branch banking for 14 years, followed by work on the commercial side for seven years mostly in the Small Business Administration. Haupert finished on the banking retail side by serving as a regional vice president running one-fifth of the state of Michigan overseeing 18 branches, 102 employees and having direct responsibility of an annual operating budget of $148 million. He and his family then moved to Charleston, SC, where Haupert assisted in the development of an investment firm that supplied insurance and investment resources to community banks and credit unions. He and his wife, Kerry, relocated to Reno in 2007 to be closer to family. His parents live in the area and his younger brother lives in the Lake Tahoe Basin.
HOW DID YOU GET THIS GREAT JOB? Haupert: Upon relocation to Reno, I was invited to my first Business Network International meeting and immediately fell in love with the business model and concept. The philosophy of BNI is "Givers Gain." BNI is about helping the business community grow through a structured and supportive environment. By me helping you grow and develop your business, you will want to help and develop mine. I immediately joined and help found a new BNI chapter. From there, I volunteered for a leadership role in the region helping run three local chapters. And in 2011, I took over as the executive director when Willie Kerschner retired.
WHAT DO YOU DO EVERY DAY? We are blessed in the Northern Nevada region to have a membership base of true professionals. We have 15 local chapters with 320 members. We have developed a regional leadership team of dedicated professionals whowork closely with the local chapters. I support the leadership teams with the day-to-day structure and challenges that come with running multiple weekly business meetings generating millions of dollars to the local economy. Most of my time is devoted to the development of new BNI chapters and education through workshops to the existing membership.
WHY DID YOU CHOOSE TO WORK IN RENO? We originally moved to be closer to family but have stayed because of the business climate, natural beauty of the region and the people.
WHAT WOULD YOU TELL A KID WHO WANTS TO DO THIS? I am blessed to work with the finest business people in Northern Nevada. Having entrepreneurial experience is key. Having a working knowledge of the stress and complexity of running your own business only comes from having P&L responsibility. So, young people, focus on getting a sense of what makes a business successful. While the product or service may be fantastic, it's the people who make it go. Outstanding communication skills are key. One mouth, two ears used in proportion will propel you faster than any whiz bang idea.
WHAT'S THE BEST PART OF YOUR JOB? Hearing the success stories of members connection with new target markets, landing new contracts, growing their businesses to levels they never thought possible are all part of running a successful word of mouth networking organization.
WHAT HAS SURPRISED YOU MOST ABOUT THE JOB? The personal development that has transpired in me and my fellow BNI members. While I believe most members join to financially grow their business, I hear just as many personal success stories. Members learning to speak comfortably in public. Members learning about other local resources and forming new professional alliances. The Bible says, "Iron sharpens iron." I am transformed every day by the gifted professionals I am surrounded by.
He just celebrated 15 years as a BNI member!

Brad is a member of the South Reno Chapter.
---
Mile High Chapter Spends an Evening at the Northern Nevada Food Bank
Submitted by Suraj Zutshi, Director Consultant – BNI No. Nevada
eno's Mile High chapter may be the newest chapter in the region (launched in June 2014), but, as their name suggests, they are setting the bar high—very high.

In December, 21 members and family members spent three hours at the Northern Nevada Food Bank (NNFB) Warehouse. According to the warehouse foreman, they sorted and packed more than 7,000 pounds. The NNFB is a regional food distribution center and support system for more than 130 partner agencies serving the needy, the ill, the elderly, and children.

One chapter member commented: "We had a blast and look forward to continuing our community service. It was fun spending time together. When do we do this again?"

This new chapter is setting standards for the 13 other chapters in the area. Please remember volunteering makes a big difference—in others' lives and your chapter's. Givers DO Gain!
---
BNI Connect Profiles a Must

As you are all aware I am a HUGE BNI Connect advocate and urge every BNI member to create a profile and make it as complete as possible. Utilizing this tool to extend your business reach to over 160,000 members worldwide is a must.
That said, here is another BNI Connect SUCCESS story.
We received a call from a Reno resident that had a leak under her kitchen sink. Until now she had not needed to call a plumber so she reached out on Facebook to her friends that may have a REFERRAL suggestion. Her best friend from childhood, a BNI member that lives in Rohnert Park, California used BNI Connect to see if there was a member in Reno that may be able to help her. She was able to find Jet Plumbing in Reno, advised her friend of where she found us and the reasons why we might be a good company to call. Yesterday we located the leak to a bad supply line under the dishwasher and made the repair.
I received a call for our Rohnert Park member that said her friend was very happy for the information. This is not a Jet Plumbing testimonial. This is a confirmation that BNI Connect is a vital tool. It works even when you're not and every member needs to take the time to complete their profile.

Happy Connecting!
Drew Rolley
---
Northern Nevada Founders Award
South Reno chapter was among the first chapters founded in Reno back in the days of Dance Cards and BNI Bucks. No BNI Connect. No podcasts. No webinars. No Advanced MSP training. Remember longhand reporting?

South Reno chapter actually was established in 1998 (making them the oldest). Charter members Mark Fisher and Shaun Bittick still belong to the chapter - a successful tag team in real estate and mortgage lending.

The BNI Founder's Award is about excellent performance relating to referrals, visitors, new members, commitment, enthusiasm, and, most importantly, attitude. This chapter has attitude.

How do they increase membership, improve networking, and make their meetings enjoyable and profitable? They actually interview members about becoming a part of their chapter. They mentor. They help each other. They establish goals and then communicate those to the membership. They help new members participate, become a part of the chapter, and take ownership in it. Read More
---
Member Spotlight and Northern Nevada's Newest Ambassador
Over 24 years of diversified experience gives Linda a creative advantage and excellent resourcefulness. With a BFA from Parsons, The New School for Design, Linda spent most of her career working in New York City as a graphic designer, illustrator, art director, creative copywriter, and creative director. For eight years Linda was Senior Art Director at Bristol-Myers Squibb Company and in 2003, Linda brought her talents to the Reno/Tahoe area and launched Danaher Design, LLC. In 15 years, she has received 23 awards for communication design and creative marketing, working with companies such as American Parkinson Disease Association, Alliance Trust Company, Avis, Lincoln Mercury, Hyatt Regency, Yellow Book, USA, The New York Chinese Scholar's Garden, and Historic Richmond Town.
For Linda, BNI has been a great resource for referrals and more importantly, an excellent opportunity for partnering with power teams. Collaboration with complementary members in her chapter has been very rewarding by increasing business and establishing credibility. Recently, a referral from Eric Baryol, from CMIT Solutions, has given her the opportunity to create new branding, Website design and social media marketing for Weiss Metal, an innovative manufacturer from California that received EDAWN's 2012 Company of the Year Award. This cooperation with CMIT has lead to more business from Weiss Metal and its sister companies.